Depending on which products you have, there may be different available options.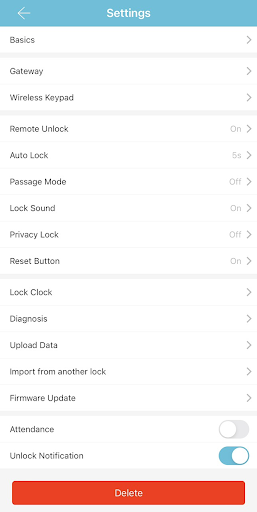 Under Basics, you can view and change information such as Lock Name and Battery Level.
Gateway shows signal strength if Sifely Gateway is connected.
With Remote Unlock on and a Sifely Gateway connected, you can remotely unlock/lock your lock.
Lock Sound adjusts the locks sound level.
Auto-Lock allows you to disable/enable the auto-lock or adjust the auto-lock timer. (Default 5 seconds).
Privacy Lock is a setting for products with "Privacy Mode" Button.
Reset Button allows you to disable the physical reset button from being used.
Import from another lock allows for the transfer of passcodes and fobs from one lock to another. Copying settings from one Sifely Lock to another Sifely Lock.
Firmware Update will check for any available firmware updates and apply them. Do not update firmware unless instructed to by Sifely Tech Team.
Attendance enables the Attendance feature. This feature enables the lock to be used as a time clock for employees to clock in and clock out.
Unlock Notification will send notifications of when the lock has been electronically unlocked